28 Jul 2022
OCEANOVATION teams up with World Ocean Council.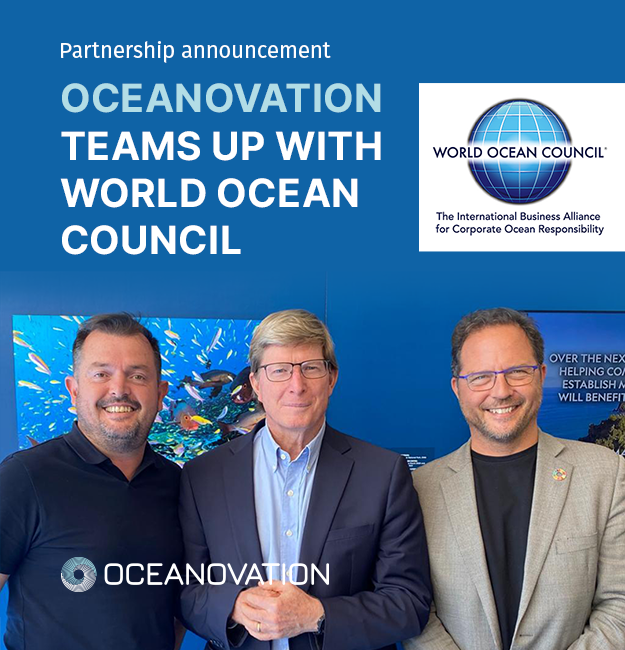 Supporting Innovation for a Sustainable Future of our Ocean Together.
With great pleasure and excitement, we like to announce that OCEANOVATION has joined forces with the World Ocean Council (WOC).
OCEANOVATION and the World Ocean Council are committed to helping start-ups connect with corporates and investors that have the eagerness and interest to support them in their growth and development.
From the start of our discussions, both organisations saw significant synergies of a collaborative approach in delivering our various projects.
As a result, we are happy to announce that we will be hosting our first OCEANOVATION MEETUP SERIES x Barcelona on 20th of October, following the World Ocean Council's annual Sustainable Ocean Summit (SOS 2022 ) and Global Blue Finance Summit (BlueFin 22) taking place from 17-19 October in Barcelona.
We are firm believers in collaboration and see this partnership as the start of numerous touch points and engaging meetups in the run-up to our joint OCEANOVATION Festival next year on 21-22 June 2023 (New Dates).
"We know the ocean is in trouble," says Rick Wall, founder of OCEANOVATION. "However, many innovative companies and solutions today are contributing towards a sustainable future for our ocean. We want to support them on their journey to becoming successful, profitable, and impactful businesses. OCEANOVATION is committed to providing a fantastic platform for them to shine and grow. There is reason for optimism and partnering with the World Ocean Council is the perfect start to turning things around for our ocean".
Our goal remains to provide innovative companies active in the ocean sectors opportunities to take their offering to the next level through learning, exposure, connections, collaborations, and funding.
Rick Wall adds: "we invite innovators, investors, industry executives, government representatives, and academia worldwide to join our urgent quest in supporting a sustainable, global blue economy".

WOC CEO Paul Holthus said, "We are thrilled to develop this partnership with OCEANOVATION. We will collaborate to focus and advance the efforts of entrepreneurs by linking them to ocean industries and the real business challenges and opportunities of sustainable development."
______________________________________________________________________
Save the dates and join us at:
World Ocean Council Events:
To learn more about our partner - the World Ocean Council, please visit: https://www.oceancouncil.org/